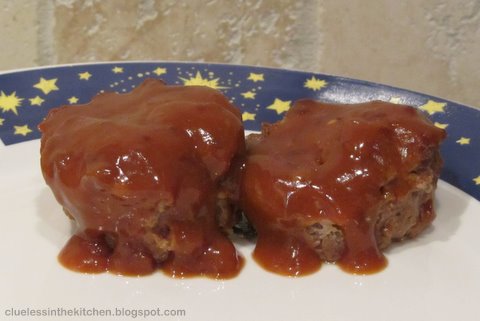 I certainly wouldn't say that this is a classic Salisbury Steak recipe, but whatever it is, it is yummy. I found this recipe many years ago, not long after we bought our first house (that was 2001). Both my husband and I loved it from the start. I've made one minor adaptation, discussed at the end, but otherwise, this is still how I make it all these years later.
Salisbury Steak


Source: adapted from AllRecipes.com, submitted by Kelly Berenger

Ingredients:

1-1/2 pounds ground beef
1 (10.5 ounce) can condensed French onion soup
1/2 cup dry seasoned bread crumbs
1 egg, beaten
1/4 teaspoon salt
1/8 teaspoon ground black pepper (optional)
ketchup - 2 Tablespoons (for meat) plus 1/3 cup (for sauce)

Worcestershire sauce - 1 Tablespoon (for meat) plus 2 Tablespoons (for sauce)

1 tablespoon all purpose flour
1/4 cup water
1/2 teaspoon mustard powder


Directions:

In a large bowl, mix ground beef with 1/3 cup soup, bread crumbs, egg, salt, black pepper, 2 Tablespoons ketchup and 1 Tablespoon Worcestershire. Shape into six patties.
In a large skillet, brown both sides of patties over medium-high heat. Pour off excess fat.
In a small bowl, blend flour and remaining soup until smooth. Mix in water, mustard powder, plus remaining ketchup and Worcestershire sauce.
Pour sauce over meat in skillet. Cover, and cook for 20 minutes, stirring occasionally.


Erin's Notes:

For the 1/3 cup of soup that goes in the meat, I usually spoon out most of the onions, then add a little of the liquid. That way most of the onions are in the meat adding flavor, leaving most of the liquid to keep the sauce smooth.
I usually brown the patties until they are mostly done, then pour on the sauce. I simmer covered until the meat is done, then simmer uncovered until the sauce thickens.
Works fine with ground turkey, perhaps adding a bit more ketchup and Worcestershire sauce to the meat, though I do still prefer this particular recipe with beef.
I've begun experimenting with making these in muffin tins instead of browning in a skillet. Will update if/when I perfect the method.